Categories:
Fashion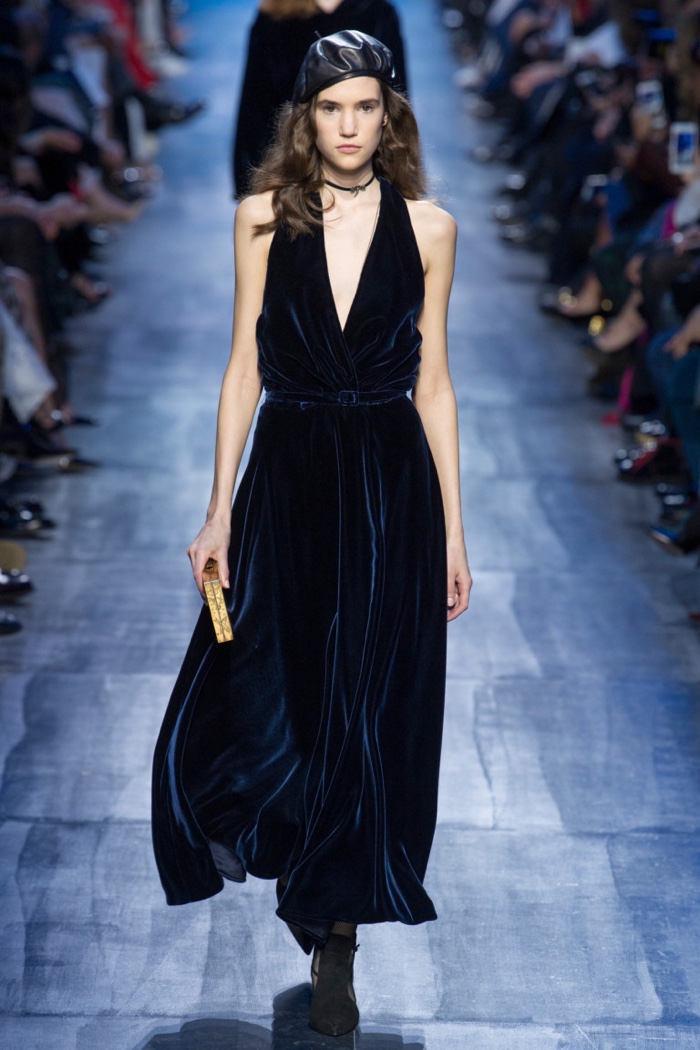 Get ready to add some seriously 1970s textures to your wardrobe as that retro fabric velvet is looking like it's going to be big news for the remainder of 2017. With fashionistas, designers and even furniture retailers all looking to make this wonderfully soft fabric the must-have texture of the year, it's time to look at how we can all get in on the velvet trend.
On-trend celebrities like Kendall Jenner and Angelina Jolie have all shown a great deal of enthusiasm in wearing velvet in some surprising new ways. Whilst a metallic gold playsuit might not be the most obvious way to wear velvet, it shows how adaptable this fabric is in adding a touch of glamour to a formal event.
These looks are all useful guides as they show that whether it's a backless gown or a chic midi skirt, velvet is surprisingly versatile and can bring some easy-going warmth to any look.
Coloured velvet was most of the more noticeable trends at this year's year's New York Fashion Week. Whilst some designers were keen to embrace more futuristic looks, it was comforting to find that fashion houses like Jason Wu, Dion Lee and Altuzarra all used velvet in a way that offered a new take on modern glamour.
A big reason as to why velvet could be making a comeback is that we're enjoying a real 1970s renaissance across the fashion and interior design worlds recently. We've already seen other fabrics of that era like suede and corduroy hitting the catwalks, and when Urban Outfitters starts offering macrame plant hangers and Bedstar includes some velvet options amongst their beds, it shows that we're in something of a 1970s revival.
We often think of velvet as being fairly durable and heavyweight. But that doesn't mean that it has to necessarily be restricted to the winter months, as some designers are finding some exciting ways to implement velvet into our wardrobes on our summer holidays too.
Whilst many of us would have second doubts about wearing a velvet bikini, it seems that some celebrities can't get enough of this glamorous swimwear trend.
With the likes of Kylie Jenner adopting velvet into their summer fashions, and online retailers like ASOS starting to feature velvet bikinis, it looks like everything from our swimwear to our beds are going to receive a touch of velvet elegance.
comnum(0) tbcount(0) tbcount(30)
Categories:
Other Brands
IMAGES: FENDI
Like all grand old dames, a tiny facelift is needed once in a while, and with the recently completed rejuvenation exercise at Fendi's most well-known boutique in Singapore, #FendiNAC is ready to receive guests within a space that houses an extensive range of RTW, fine furs, handbags, shoes and accessories for the women, as well as a dedicated section just for the men that will showcase the season's best bags, small leather goods and accessories.
Located at #01-30/32 (you won't miss it as you approach it from the main atrium), the newly revamped flagship is inspired by the Maison's Roman roots, with an emphasis on details prevalent throughout its elegantly appointed space. In other words, it's so conducive and welcoming you'll be lulled into staying for hours with lots and lots of shopping thrown in, of course.
What's new at Fendi? Well, the boutique is currently offering most everything from the Fall 2017 collection, from smooth leather Mini Peekaboo bags adorned with leather flowers to a mini leather backpack that comes with its own floral 'eyes'. Then there's the metallic silver-striped Kan I that's also Fendi's bag-of-the-moment. For those who prefer something more classic, there are the special edition Peekaboo bags that come in limited quantities of just 3 to 5 pieces each (yes, each) that come in plush velvet bodies adorned with, you guessed it, even more flowers that are embroidered into the velvet.
Then there are the countless varieties of straps both long and short for you to dress up your bag (Strap You) to cute fur charms including those that come in shape of fruits, personalised alphabet pom poms and even the new ones that come with legs. In other words, you'll be spoilt for choice if you're intent on bringing something home in that signature yellow box. And if you're going to shop anyway, why not head down to the new Fendi boutique stat?
Tags: Fendi
comnum(0) tbcount(0) tbcount(25)
Categories:
Fashion
Daga Ziober stars in Mohito's spring-summer 2017 campaign
Daga Ziober channels her inner movie star for the spring-summer 2017 campaign from Polish fashion brand Mohito. Photographed by Marcin Kempski (I Like Photo Group), the brunette poses in Los Angeles' Garcia House on Mulholland Drive. Daga looks ready for the warm weather season as she models chic sundresses, seasonal floral prints and suiting separates. Karolina Gruszecka styles the shoot with Sandy Ganzer on makeup and Charles McNair on hair.
MOHITO SPRING/SUMMER 2017 CAMPAIGN
Photographed by Marcin Kempski, Daga Ziober appears in Polish brand Mohito's spring 2017 campaign
Looking pretty in pink, Daga Ziober wears Mohito dress
Embracing florals, Daga Ziober fronts Mohito's spring-summer 2017 campaign
Suiting up, Daga Ziober stars in Mohito's spring-summer 2017 campaign
An image from Mohito's spring-summer 2017 advertising campaign starring Daga Ziober
Channeling an 80's silhouette, Daga Ziober stars in Mohito spring 2017 campaign
comnum(0) tbcount(0) tbcount(34)
Categories:
Jewelry & Watches

Sotheby's is known for getting the grandest of things under the hammer. And they are set to do just that at the exclusive 'Magnificent and Noble Jewels' sale in Geneva on the 16th of May, 2017. Amongst a series of precious items that will be auctioned here, the star is touted to be a pair of exceptionally beautiful mismatched earrings valued at a staggering £55 million! (708,58150 US Dollars)



Created exquisitely from two odd colored diamonds, the earrings shine beautifully in a pear-like shape. Named Apollo and Artemis after the Ancient Greek gods of power and beauty, the diamonds are cut and polished luxuriously into the form of danglers. While the Artemis is a fancy 16-carat Intense pink diamond worth £14.5 million, the real thunder-stealer is the Apollo – a 14.54-carat 'Fancy Vivid blue diamond'. Since, it's a rare phenomenon for a gem to acquire this grade, its estimated price stands at an astounding £40 million!
Marketed as 'The divine diamond twins' by Sotheby's, the earrings further showcase a perfect match in size, cut and tonality that is worth battling for. The awe-inspiring pair will however be auctioned separately owning to their extreme rarity, power and presence. This means that buyers will need to fight doubly hard to own the pair as a whole. Well, all precious things as they rightly say, need to be earned and not merely purchased!
comnum(0) tbcount(0) tbcount(35)
Categories:
Other Brands
IMAGES: CHANEL
For those who love the Gabrielle Hobo after seeing them back in April 2017, but were waiting for more variations, let's just say Chanel is back with even more options. You want chic? You want cool? You want funky? Chanel has answered with these new Gabrielle Hobo bags, from the colourful to the metallic, even one that's all alligator that's perfect for the woman who enjoys the exotic.
IMAGE: CHANEL
For starters, here are the multi-coloured ones that Cara Delevingne carried in her ad campaign for the Gabrielle. Available in a mix of lush suede and shiny calfskin, they are fresh, they are vibrant, and perfect for those who don't shy away from colour. Priced at SGD5460 for the Medium and SGD4790 for the Small, you'll find the former in stunning primary colours (yes, that's Blue, Red and Yellow) with the latter available in the sweetest combination of Green, Pink and Yellow.
IMAGE: CHANEL
Next up, we've got the metallics that come in Bronze, Gold and Silver that's finished hardware that's part-aged gold, part-gunmetal. Definitely edgy and a guaranteed head-turner they are available in 3 sizes (Small, Medium and Large), they are priced at SGD5030, SGD5700 and SGD6190respectively.
IMAGE: CHANEL
Last but not least, here's the Gabrielle Hobo in gorgeous alligator that was mentioned earlier. Pharrell's bag of choice in his ad campaign for the Gabrielle collection, the juxtaposition of the exotic leather against that hard-shelled leather base is truly sharp, and something one won't soon forget once you laid eyes on it. And if you're keen on any of the 6 above, or the other variations that have already been launched, just head down to any Chanel boutique in Singapore and give them a go. You might just fall in love.
Tags: bag Chanel Gabrielle Hobo
comnum(0) tbcount(0) tbcount(45)
Categories:
Designer Shoes
The espadrilles fever is still on especially now that summer is just around the corner! Knowing the demands of a modern-day Cinderella who'd rather wear comfortable shoes over high-heeled killer heels, Chanel brings the Camellia Espadrilles to its boutiques.
Femininely fresh and functional, these Chanel espadrilles feature the Camellia flowers on the toe cap for an added sense of flirty floral goodness. And why camellia flowers in particular? People often say that they speak most to the heart and express refinement and perfection which are the great qualities you're looking for in a reliable pair of shoes.
A perfect summer style staple, these Chanel Camellia Espadrilles would be your best footwear choice especially if comfort and ease are your primary concerns. Taking a closer look, you'll probably recognize that the sole is made up of a layer of natural braided rope and a rubber outsole for a more comfy feature.
Pair them over your monochromatic summer dresses, your favorite romper, or over your shirt and jeans combo and you'll look instantly summer ready!
Tags: Chanel ESPADRILLES CAMELLIA
Categories

New Posts

Hot Posts

Tag Cloud